Alexa

for Business & SOHO & Home -

Skill

s and Rebates
Discounts and Rebates on Amazon Echo Devices and Alexa for Business
Here's the latest news on Alexa for business - https://www.google.com/search?q=alexa+for+business, https://aws.amazon.com/alexaforbusiness/
Here are key Alexa for Business videos & introductions:
Alexa for Business: Empower Your Organization to Use Alexa - 2 min video - 20,259 views - AWS Dec 1, 2017
- https://www.youtube.com/watch?v=ViB3XhsTLuo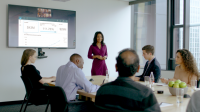 A still from Amazon's video demo of Alexa for Business
. . . which shows people using the Echo dot speaker to dial into a conference call or control a presentation. Click to enlarge.
Alexa for Business can be your intelligent assistant wherever you go. Here's some of the other sample commands from this video:
Alexa, what's my flash briefing?

Alexa, when's my first meeting today?

Alexa, remind me . . .

Alexa, join the meeting

Alexa, schedule a meeting with the sales team on Thursday at 2 PM

Alexa, ask the Office who booked this room?

Alexa, start the meeting

Alexa, pull up last quarter's sales report

Alexa allows you to provision and manage thousands of devices around your office

It's easy to create contextual voice experience for your employees

Alexa, where's Tyler's Desk?

Alexa, ask the Office for more printer paper
Here's the list of more than 20,000 Alexa skills
What Amazon's Alexa economy pays the people building its skills - CNET 12/2017
Amazon Echo Silver - SNL 9 million views as of 2017/12 Saturday Night Live Published on May 13, 2017 - The Amazon Echo Silver is specifically designed for the greatest generation (Kenan Thompson, Kate McKinnon, Leslie Jones, Kyle Mooney, Aidy Bryant) - Here's a funny Echo application for Seniors from SNL. Let's find some similar ones for the home office, huddle room and Alexa for Business!

We've just published a new youtube video about . . . Unboxing, installation and initial testing of calls with the Amazon Echo Dot and the new Amazon Echo Connect - https://youtu.be/PE2fsyexFeg

https://www.cnet.com/how-to/things-alexa-cant-do-yet/

Current Amazon pricing for all Alexa devices

01/21/18